LOYALTY CARD - Offer Details
Our popular voucher offer continues in 2014 as a LOYALTY CARD. Stamps awarded as you spend - to collect all this year & beyond!
Collect 1 stamp for every £10 spent on ALL GOODS IN STOCK including horse feeds! After 20 stamps you can exchange your card for ONE £10 GIFT VOUCHER. Collect as many as you wish & save up for something special! What about a new riding jacket for him?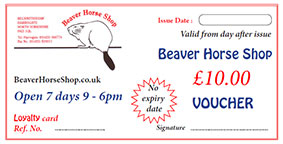 Discover the value of BEAVER HORSE SHOP LOYALTY CARDS on your next visit. Start now saving £££'s! Also in addition this year there is NO EXPIRY DATE on our vouchers. The only condition is you must come back to spend! Loyalty vouchers cannot be used on the same day of issue but are valid from the day after.
You can even earn stamps & spend your £10 voucher on SALE ITEMS! Beaver Horse Shop has a dedicated SALES ROOM, permanently open!