Toys & Gifts
Horse toys, games & puzzle toys in stock. At Beaver Horse Shop a wide range of Toys to choose for Christmas presents. Horse Books & Horse DVDs also make great birthday gifts, helping with advanced horsemanship skills or as gift ideas for kids wanting horse picture books. Horse gifts for kids are fun to choose at your local horse shop in Harrogate but when unsure Beaver Horse Shop gift vouchers are available to purchase.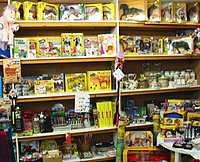 Choosing gifts for him or gifts for her from Riding Clothing might tempt you to treat yourself? So why not buy your Greeting Cards first? If time runs out to find the birthday gift ideas you are after, Beaver Horse Shop gift vouchers make a sensible substitute. Whether you buy all the Christmas gifts for horse lovers you intended or not, a piece of affordable Jewellery adds sparkle to any occassion.
Gifts for Horse Lovers
Visiting Beaver horse shop, near Harlow Carr Gardens, means you face several options with so much under one roof. Perfect gifts for her can be in buying the fun Jewellery she loves. While gifts for all horse riders are abound in our Fashion Clothing section. But gifts for horse owners are sometimes best chosen from our Grooming selection which shows you understand horse care.