Toys
Horse toys for girls, toy horses and stables & stuffed toys are some of the childrens toys in stock. Children's gifts, whether christmas present ideas or birthday presents, are easier to choose when you visit your local Harrogate horse shop, adjacent to Harlow Carr Gardens. Beaver horse shop in Harrogate is a both a farm & home, with plenty of young visitors to tell us about the toys and games they prefer.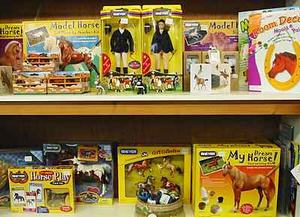 From toy model horses to cuddly horse toy, there are horsey gifts for girls & children of all ages, including toddlers toys. Puzzles & toys even for grown boys. Don't forget to browse our Greeting Cards to fit with your gift idea. Best toys include paint by numbers & some unique horse gifts for creative kids available from the Breyer collection.
Breyer Horse Toys
Large selection of Breyer horse toys. Model horse kits & toy farm animals can stir a child's imagination. Choose from Breyer 3-D paint-by-number kit to kids puzzles & jigsaws depiciting wonderful horses. Paint, sculpt, or stitch with one of the Breyer's craft kits available from Beaver Horse Shop. All toys and games from Breyer horse toys range make lovel horse presents for young horsey people & young horse owners.