Riding Hats
Charles Owen, Champion riding hat, GPA riding helmet & JTE riding hats in stock at Beaver Horse Shop. Years of experience from our cross country course, adjacent to Harlow Carr Gardens, means riding helmet safety & your good fitting are met from our wide range. Sizes range from riding hat 6 (46cm head circumference) to the upper of riding hat 7 3/4 (63cm head circumference).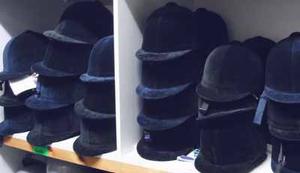 Riding hats & horse riding helmets come with free riding hat fitting by a trained member of staff. Along with body protectors free advice & fitting is a good reason to buy from your local Harrogate horse shop, so visit us today. Remember all riders under 14 years of age must wear a riding hat & we stock Product Approved Specification (PAS) 015, the British safety standard for equestrian helmets.
Classic Riding Hat
The classic riding helmet is covered in black velvet or velveteen (either via a removable cover or permanently glued on), with a small, flexible, visor-style brim. Visit Beaver horse shop in Harrogate to browse a wide range of our velvet riding hats. More recently, smooth finish helmets worn without a fabric cover, have become more common. See our many riding hat cover in different colours & textured riding hat silks to put on your skulls all under one roof.