Stable Equipment
Wheelbarrow, pooper scooper, corn broom, horse bucket, manure fork, shavings fork & yard brush all available from Beaver Horse Shop in Harrogate. With 30+ stables in Harrogate, adjacent to Harlow Carr Gardens, Beavers knows good quality stable equipment. From mucking out tools to horse feed buckets, visit Beavers today for a super range of quality horse stable equipment.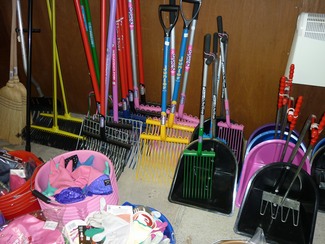 Stable tools in stock make light work of mucking out your horse shavings. Stable bedding is available in our Horse Feeds & Grooming section. While essential stable work boots are available in our Muckers & Rubber Boots section. After grooming, keep a horse clean in their stable before showing with a horse sheet from our Horse Rugs Xtra section. A good range of Horse Clippers are in stock & don't forget Stable Rugs for the cold.
Horse Bucket Range
Many buckets for horses in stock in a range of colours & sizes. Feed bucket covers in plain or available with Morning Feed and Evening Feed printed on top. Tubtrugs make an invaluable bucket to have around the yard for many different jobs. For quick & easy feeding, handy corner & door feed manger are in stock. Rubber feed skip are virtually indestructible & ideal for horses that like to play with their feed buckets. Visit us for all your stable equipment.