Hacking Jackets
Hacking Jackets in stock are tweed style jackets in Keepers Tweed & various colours of navy, brown & green. Ladies hacking jacket & men's hacking jacket plus childs hacking jacket, all available in a range of sizes. For your hacking jacket size, visit your local Harrogate horse shop. Beaver horse shop in Harrogate is adjacent to Harlow Carr Gardens.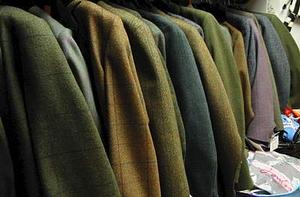 Your hacking Jacket can be worn for riding dressage & jumping. The dress guidelines of each sport will dictate what colour you should wear; for example in eventing a tweed jacket is acceptable for intro to novice levels, and a black or blue jacket is expected for intermediate and above, in the UK. Our tweed riding jacket available, both green hacking jacket & brown hacking jacket, also make excellent gifts for men liking country fashion.
Tweed Hacking Jackets
Tweed Hacking Jackets are worn with a coloured stock & stock pin. Check Riding Stocks & Ties for our range. A shirt and tie may also be worn instead of a stock but always check the rule book first. Jodhpurs should be white or cream, see our Jodhpurs & Breeches category. Your equestrian outfit is done with long black boots or short boots from our Riding Boots & Hats section, together with some Riding Chaps of the same colour.