Riding Chaps
Tredstep half chaps, Mountain Horse chaps, Just chaps, Tuffa chaps, Rambo fleece chaps & Mountain Horse half chaps in stock at Beaver Horse Shop. Mens chaps, womens chaps & kids chaps available. Horse riding gaiters which are waterproof riding chaps prevent wet riding breeches sticking to the lower leg. Suede chaps also stocked. Visit your local Harrogate horse shop, adjacent to Harlow Carr Gardens, to try some on.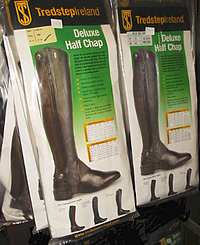 Half chaps extend from the ankle to just below the knee & used with Paddock Boots in place of tall Leather Riding Boots. Children's chaps are widely worn in equestrian competition as it replaces the cost of buying tall riding boots for kids. Riding half chaps provide extra grip for the rider, protection from sweat & the stirrup leather. Half chaps usually are made of leather with a zipper or hook & loop closure on the outside.
Horse Riding Full Chaps
Full chaps are long, fitting over the boot. Some riding chaps nearly cover the entire boot except for the toe. Leather riding chaps buckled on over trousers are great protective coverings for the legs. The word chaps is short for the Spanish "chaparro" refers to dense shrubby tree thickets of "dwarf oak" the full length riding chaps were built to withstand. Beaver Horse Shop stocks both full chaps & half chaps. Come visit us soon.