Saddles
Jeffries saddles, Ideal saddles & Barnsby Pony Club Approved saddle are available from Beaver horse shop, your local Harrogate horse shop. With years of experience providing the cross country course adjacent to Harlow Carr Gardens, plus 30+ stables, saddling horses in North Yorkshire is a well established part of our business. Visiting your local Harrogate horse shop, means the best advice is guaranteed.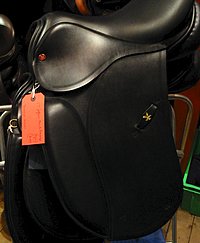 A comprehensive range of general purpose saddle always available. Event saddles, jumping saddle, dressage saddle & show saddles are also stocked plus some pony saddle & cob saddle. Beaver Horse Shop recommends to you Jeffries saddles. Beavers is a selected stockist for Jeffries Saddlery in North Yorkshire. Visit today your Beaver Horse Shop, a local Harrogate horse shop, for the best product range & saddle fitting.
Saddle Basic Parts
Pommel is the front, slightly raised & cantle the back. A saddletree, a leather-covered wood or synthetic , is the base on which the saddle is built. This "tree" size determines both rider's seat area & fitting on a horse. Panels & padding cushion the underside. Some parts are in Horse Tack section: Stirrup bar, part of the saddle; a Girth strap to keep your saddle in place & there is a pommel D-ring to attach Breastplates & other horse tack.