Girths & Stirrups
Girths keep your saddle in place & best saddle girth fitting spreads the pressure evenly. Types of girth in Beaver Horse Shop range from leather girth to chafeless girth. Dressage girth, short with long billets & overlay girth, with a curved leather centre shaped as girth, in stock. Chafeless girths used on sensitive horses help protect horse's barrel. Jeffries girth, Stubben girth & Frank Baines girth all in stock plus others.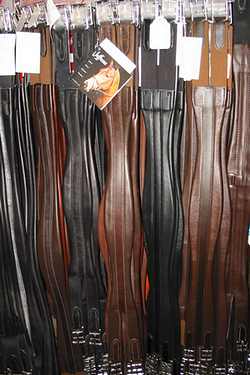 A surcingle or overgirth is a strap made of leather used in addition to the leather girth. Surcingles are used during training, for equestrian vaulting & by eventers to provide more security in holding the saddle in place. To measure horse girth, a saddle with saddle pad should be placed on horse. Both horse & pony girth stocked. Visiting Beaver horse shop, near Harlow Carr Gardens, means the best advice & best fitting is guaranteed.
Riding Stirrups
Horse stirrups hold the foot of a rider, attached to a saddle by stirrup leathers. Beaver Horse Shop stocks both safety stirrups & flexi stirrups, along with stirrup irons. Flexi stirrup use rubber inserts for shock absorbing & reduce strains to help maintain riding posture. Safety stirrup are available in different designs intended to free foot more easily. Stirrups are safer to use when riding boots are worn. Beaver Horse Shop offers a good range.