Training Aids & Headcollars
Side Reins, Draw Reins, Lunge Line, Chambon, De Gouge, Cavesson & Harbridge training aids stocked by Beaver Horse shop. Horse training helps create a safe & useful horse for both recreational & sporting pursuits. The Pessoa Training Aid creates a fluid contact by sympathetic ropes & pulleys used while lunging. Rope halters can be used for basic training & headcollars, including cob headcollar & pony headcollar, stocked to catch the ponies first.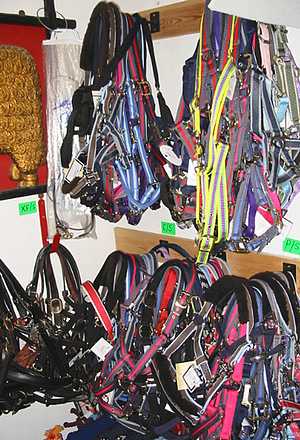 Horse training video, horse training DVD & horse training books are available in our Gifts category. Horse's legs can need protected while lungeing, see our Horse Boots. Equine training requires use of Gloves to prevent rope burns & Paddock Boots or similar for the trainer. A Riding Helmet is sometimes worn, especially if the horse tends to kick at the trainer.
Lungeing
Lunging or lungeing (Longeing in the USA but pronounced "lungeing") uses a lunge line, usually about 25 to 30 feet long. A lunge cavesson consists of a heavy, padded noseband, metal rings to attach the lunge line, a throatlatch & sometimes additional straps. Cavesson use is commonly associated with dressage & is designed to allow more subtle communication between handler & horse. All available from Beaver horse shop in Harrogate.